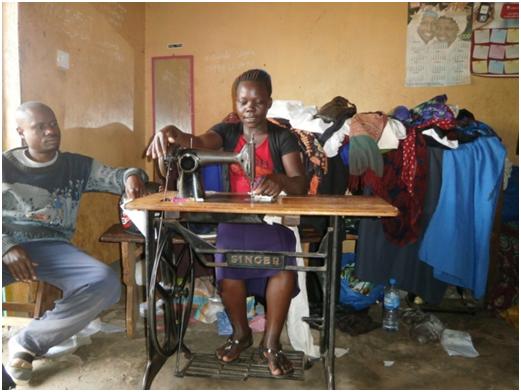 Eco –Agric Uganda conducts trainings in small business management, entrepreneurship skills to all the beneficiaries supported by organisation. The trainings aim at equipping the beneficiaries with knowledge on how to make a business plan, how to seek money for the business, How to manage a business, How to handle customers, How to handle business books. (Record book, calculating profits), Risks and uncertainties in a business, Decision making in a business and Good record keeping. Eco- Agric Uganda also trains youth out of school in vocational skills where they are always given start up kits to help them start their own business and can generate income to sustain their families.
VSLA and SILC saving methodology is also being promoted among the beneficiaries which has created critical financial cushion vulnerable households need to survive disasters. Women can now access small cash infusions through savings and lending programs, financial education through small business trainings have been conducted and this has helped caregivers start up small businesses where they can now sustain their families especially on the domestic needs
Eco-Agric always trains community members on entrepreneurship skills,development and marketing skills and through the training, people are able to startup businesses using the knowledge and skills given to them.
In partnership with Vibrant Village Foundation and Marr-Munning Trust, Eco-Agric trains women in vegetable and mushroom production, after which the women make up stalls and sell on their produces. Also Eco-Agric has enabled women of kitukutwe to start up a marketing association and so it's the next plan for the Gombe farmers groups, in which a marketing association enables to sell out their produces in large quantities and on higher prices hence increasing on their incomes.