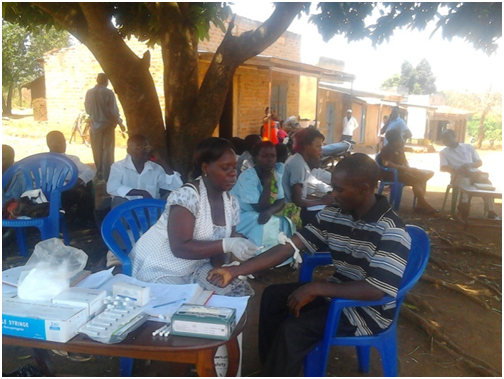 Eco-Agric Uganda implemented a two year project 2013 – 2015 for an HIV Prevention project in Buhimba Sub County aiming at reducing new HIV infections in Hoima. The implementation strategy for the project was FFS and FLS where by incorporation and integration of the specific knowledge, skills and general information on HIV/AIDS prevention was paramount through behavioural, biomedical and structural interventions.
The project was being implemented through Community dialogues and engagement meetings, training of peer educators, condom distribution, access to and utilization of HCT services, referral systems (mainly for SMC) and mitigating underlying socio-cultural, gender based and structural drivers of HIV/AIDS. The project also created awareness on consequences of widow inheritance, polygamy, early marriages as well as economic empowerment for women through agricultural income generating activities. Under the project, there was also strengthening co-ordination, networking, referral and collaboration of HIV/AIDS services with other players in the district.
Eco-Agric Uganda helps in counseling of the community (youth) about the prevalence's of HIV/AIDS and also through the project it implented ( ), it provided condoms to the community thus reducing on the transmission of HIV/AIDs within the communities.
Eco-Agric also gives vitamin A supplements and de wormers to children in its operating areas with the aim of improving on the healthy status and nutrition of the children; it also gives advice to mothers and families on how to live a healthy life through having nutritious meals and balanced diet so as to reduce on the malnutrition of children in families.
Eco-Agric in connection with Vitamin Angels is going to be able to give vitamin A supplements and Dewormers to children of 6months and 59 months in wakiso, kibaale and hoima districts.